Babinda Quarters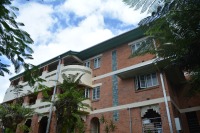 Just opened, The Quarters Guest House is a beautifully restored classic Art Deco guesthouse, located in Babinda, Tropical North Queensland. Just a 40 minute drive south of Cairns, this historic nurses home is a heritage icon and local landmark.
Built in the 1950's, The Quarters has been thoughtfully renovated to become a fifteen room Art Deco Guest house with a 1930's feel. Its elevated position, expansive tropical surrounds and distinctive art deco architecture, make for a pleasing and memorable holiday experience.
Situated close to all the wonderful rainforest attractions south of Cairns. Spend a day at the Boulders, or walk Mt Bartle Frere.
Babinda PACKAGES & TOURS
ALL ABOUT Babinda
Babinda is located 60 km south-east of Cairns and 10km inland from the coast. The township is surrounded by lush rainforest hillslopes and cane fields in the foothills of the Bellenden Ker Range. Babinda has a very high rainfall caught by the Bellenden Ker Range, in particular Mount Bartle Frere, Queensland's highest summit (1622m).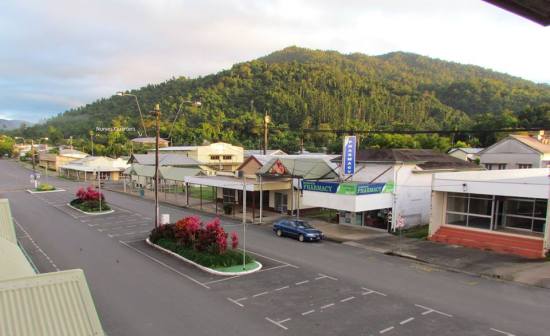 Photo Credit: The History of Babinda & District
NEARBY ATTRACTIONS
Mt Bartle Frere
For the experienced, fit, and well prepared bushwalker, a challenge awaits.. Queensland's highest mountain, Mt Bartle Frere, is nearby and a climb to the summit is an adventure best tackled over two days. Be prepared for some very steep terrain and rock scrambling in places, but the reward of reaching the summit is well worth the effort.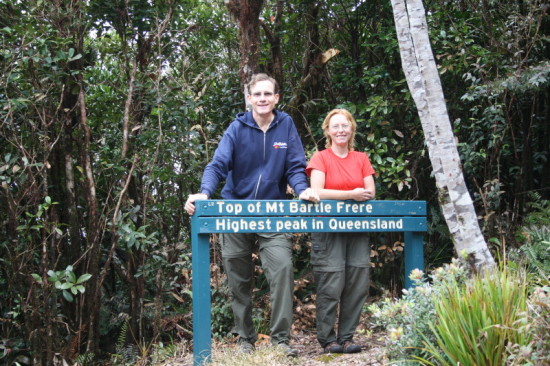 Mt Bartle Frere – Broken Nose
Alternatively it is possible to hike to 'Broken Nose' in one day for the energetic and fit. This 8 kilometre mountain rainforest trek is not as challenging as hiking to Mt Bartle Frere summit, but preparation is a must. This track begins on the same track as the hike to the summit of Mt Bartle Frere from Josephine Falls carpark.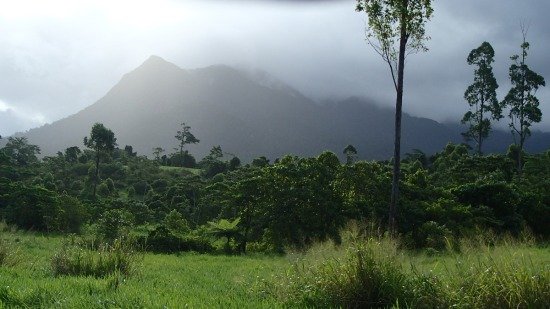 Josephine Falls
For those who seek a more soft adventure, plunge into the cool waters of Josephine Falls. This is a magical looking three tiered waterfall with a large wide rock face that visitors slide down when the conditions are right. The walk in is paved through lush tropical rainforest. Viewing platforms offer excellent views and opportunities for photography. There are stairs down to the waterfall and the facilities are well maintained.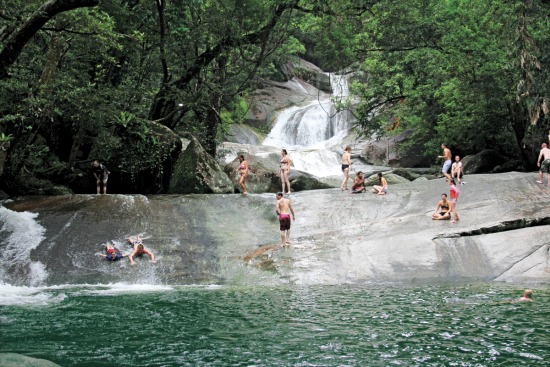 Babinda Boulders
Babinda Boulders is also a very pretty swimming hole. Here you can dangle your feet in the cascades around smoothed Boulders. Sit on a warm rock in the middle of clear rainforest water in pristine surroundings. The main park contains covered picnic areas, barbecues, children's play equipment, toilets and changing rooms as well as plenty of open grassed areas. Some areas within the Boulders are restricted swimming zones, so it is important to follow the signage.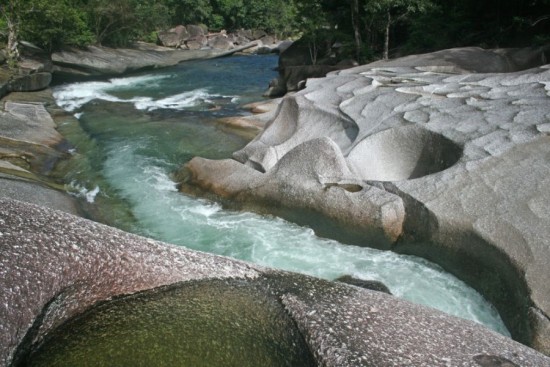 Eubenangee Swamp National Park
Eubenangee Swamp National Park is also nearby. If you enjoy bird-watching this is a fabulous place to spot Jabiru, Spoonbills, Egrets, flocks of Finches and many rainforest birds, flitting in amongst the melaleucas. Over 190 species of bird have been recorded here. The grassy hill, accessed via the walking track, makes a good vantage point for observing waterbirds.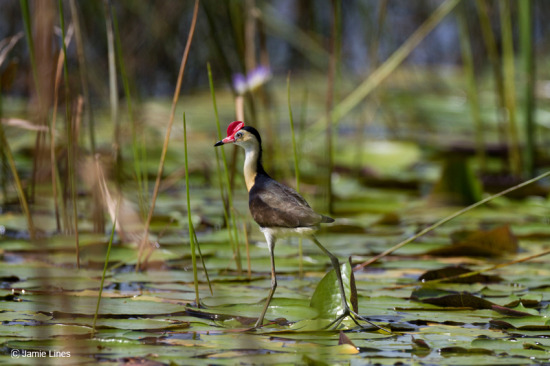 Bramston Beach
Bramston Beach is a remote and peaceful beachside community. Located around a 20 minute drive from Babinda, through fields of swaying sugarcane, banana plantations and rainforest. This is the first accessible beach south of Cairns city. There is a picnic area and a caravan park and campground. There is an excellent cafe with great burgers and fresh fish and chips.
The unspoilt beach is long and you can swim all year round because of the stinger net. There is also a lifeguard on duty during holiday periods. The area around Bramston is a nature lovers paradise, the ideal haven for fishing, boating, swimming and relaxing. Local wildlife includes Cassowaries, wallabies and many tropical birds.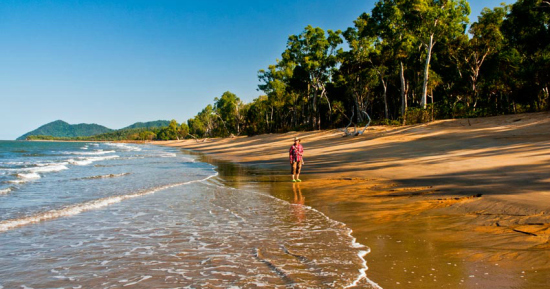 10 THINGS TO DO
1. Babinda Picture Theatre
Built in 1956, the Babinda Munro Picture Theatre has been a huge part of the community. In 2006 it was demolished by cyclone Larry, but 12 months on it was fully restored to depic the 1950's-era and it still features the canvas sling back seats of that period of time. Grab your popcorn and enjoy a latest release movie.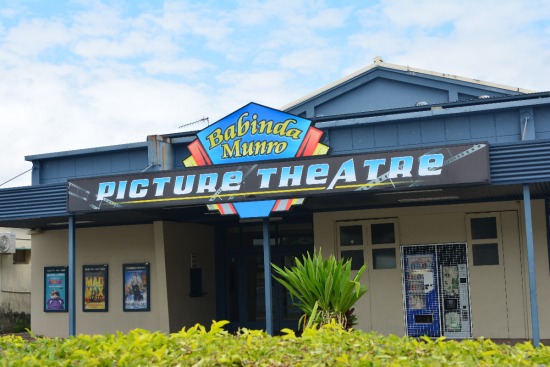 2. Self-drive Tully River Rafting
Regarded as the best rafting river across Australia and New Zealand, challenge yourself to grade 3-4 rapids or for a greater rush take the Xtreme with more thrilling paths through rapids, cliff jumping, rapid swimming and raft surfing!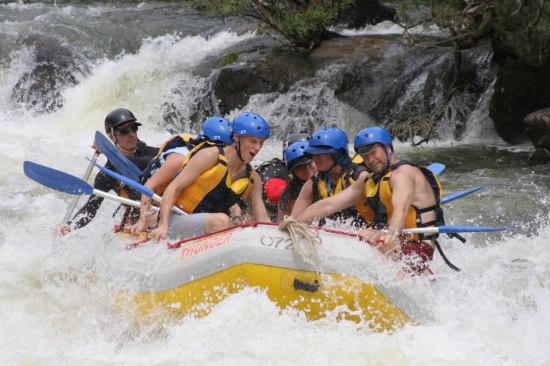 3. Self-drive Frankland Islands – Departs Deeral
Frankland Islands Cruise and Dive is the only tour operator to visit the uninhabited and pristine Normanby Island. Your day begins with a scenic 30min river cruise, followed by a shart open water crossing to Normanby Island where you'll then have the day to snorkel, dive and explore this piece of paradise on the Great Barrier Reef.
4. Babinda Golf Club
Open for casual golf 7 days a week. An honour system applies and visitors are very welcome. Fees are $10 for 9 holes and $20 for 18 holes. The clubhouse is open Wed and Fri 3pm to 6pm and Sat 12:30pm to 6:00pm.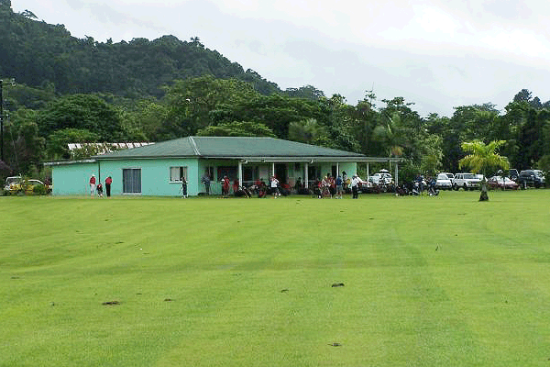 5. Babinda Bowls Club – Wednesday night – Barefoot bowls
All visitors, bowlers and non-bowlers are welcome to have a social game on our synthetic green.
"Barefoot Bowls" - Wednesday night 6.00pm
Weekend Social Bowls - Saturday and Sunday 1.00pm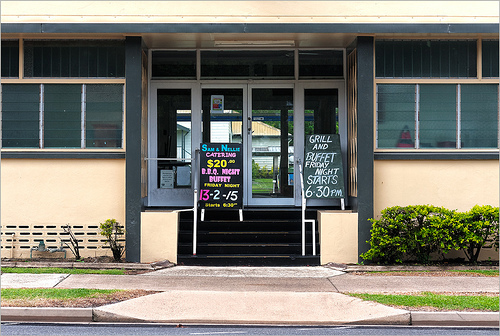 6. Babinda Paintball
Enjoy the paintball rush playing in a tropical rainforest location under the expert guidance of our highly trained staff. The course is designed and built by seasoned military personal.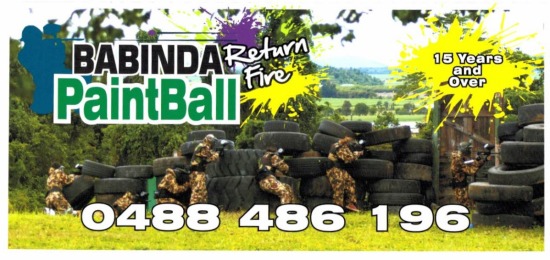 7. Self-drive Paronella Park
Paronella Park was built in the 1930s by José Paronella. This magical experience comprises of a castle, picnic area, tennis courtsm, bridges, a tunnel surrounded by 5 hectares of magnificent gardens. Paronella Park has received multiple Queensland tourism awards, is State and National Heritage listed and is a National Trust listed property.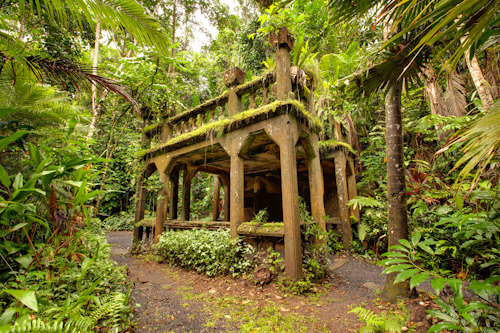 8. Self-drive Mamu Tropical Skywalk
The Mamu Skywalk allows visitors to explore the rainforest from the forest floor to the canopy. Elevated walkways, a cantilever, and observation tower offer visitors the exhilarating experience of being high in the rainforest canopy, along with providing spectacular panoramic views of World Heritage rainforest landscapes.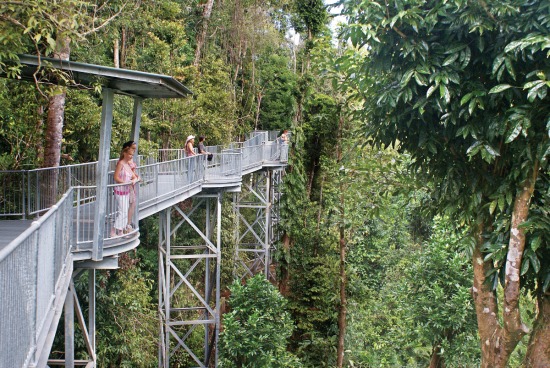 9. Go Fishing the Russell or Mulgrave River
The Russell and Mulgrave are a twin river sharing the same mouth. Launching on the Mulgrave River at Deeral or Bellenden Ker on the Russell River will position you for some exceptional light tackle sportfishing.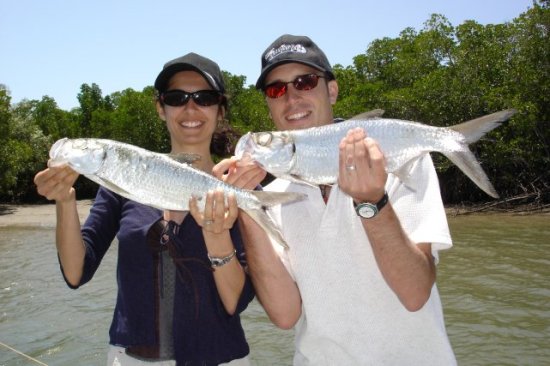 10. Take a self-guided Art Deco walk through Innisfail township
Innisfail is the Art Deco Capital of Australia. Take this self-guided town walk and discover many beautifully restored Art Deco buildings and a heritage walkway beside the Johnstone River where the original shipping wharf was located, and includes a series of hand decorated ceramic plaques depicting the history of the town.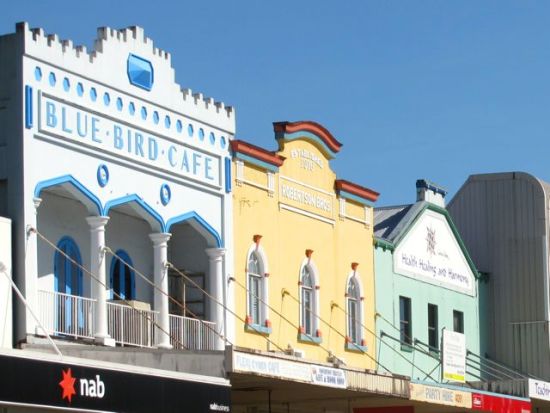 GETTING THERE
Queensland Rail – Spirit of Queensland
From Brisbane: Mon, Tues, Wed, Fri & Sat: 3.45 pm
From Cairns: Mon, Wed, Thu, Fri & Sun: 9.00am

Greyhound Australia​ – 3 per day everyday $10 one way
Departs Cairns everyday – Babinda Departs Babinda everyday – Cairns
7.45am - 8.35am 4.40am – 5.45am
1pm – 1.55pm 12.10pm – 1pm
7pm – 7.50pm 4.50pm – 5.50pm
7.25pm – 8.15pm

Premier Coaches​ – 1 per day everyday $19 one way
Departs Cairns – Babinda Departs Babinda – Cairns
7.25am – 8.20am 6.25pm – 7.30pm